Login
Log in if you have an account
Dont have an account? Register
Bathroom Transformation
26 Feb 2020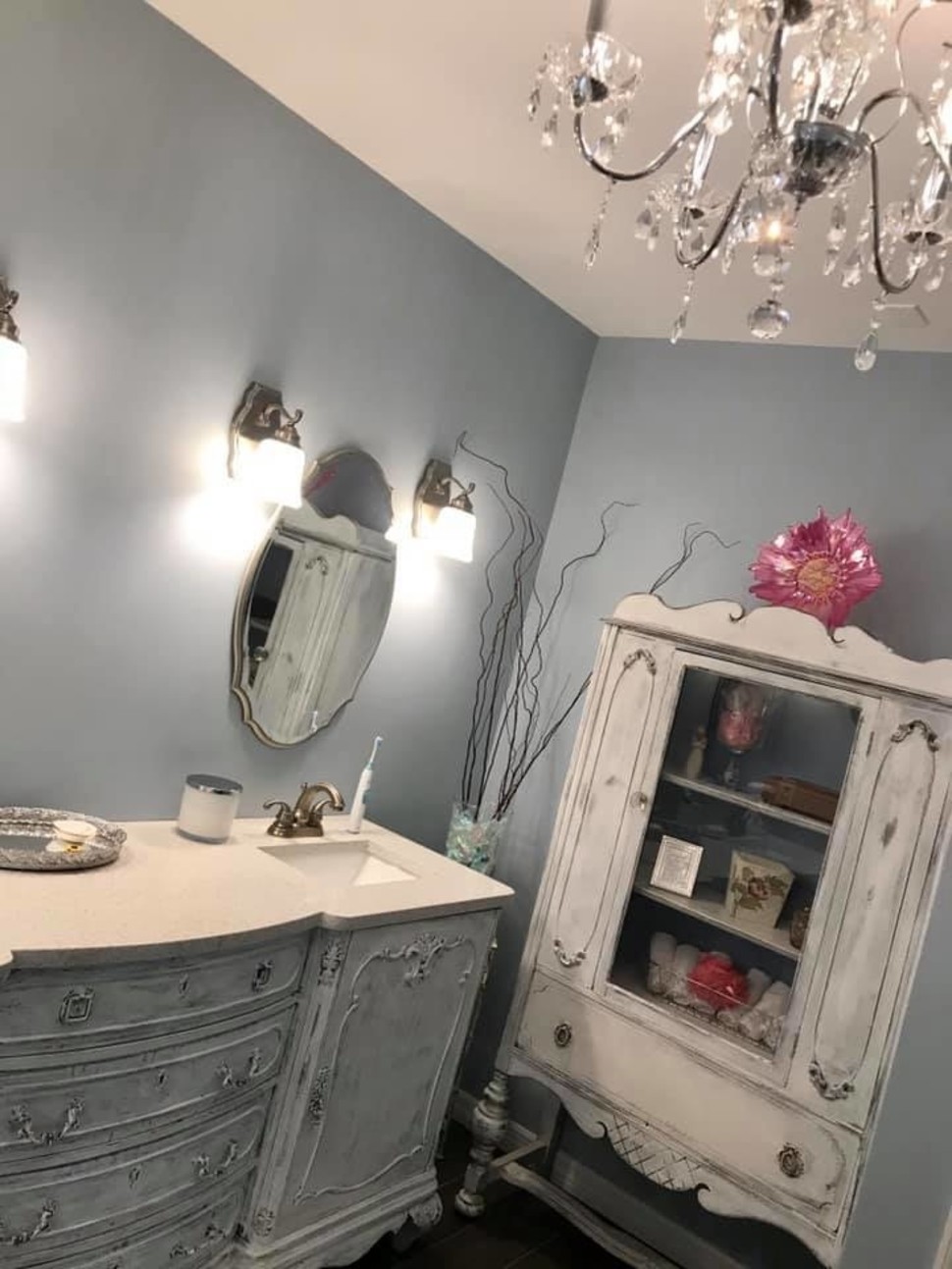 Bathroom Remodel:  This project involved New Tile Floor, New Vanity, New Storage, New Lighting, New Mirrors, New Paint, & Selective Demolition.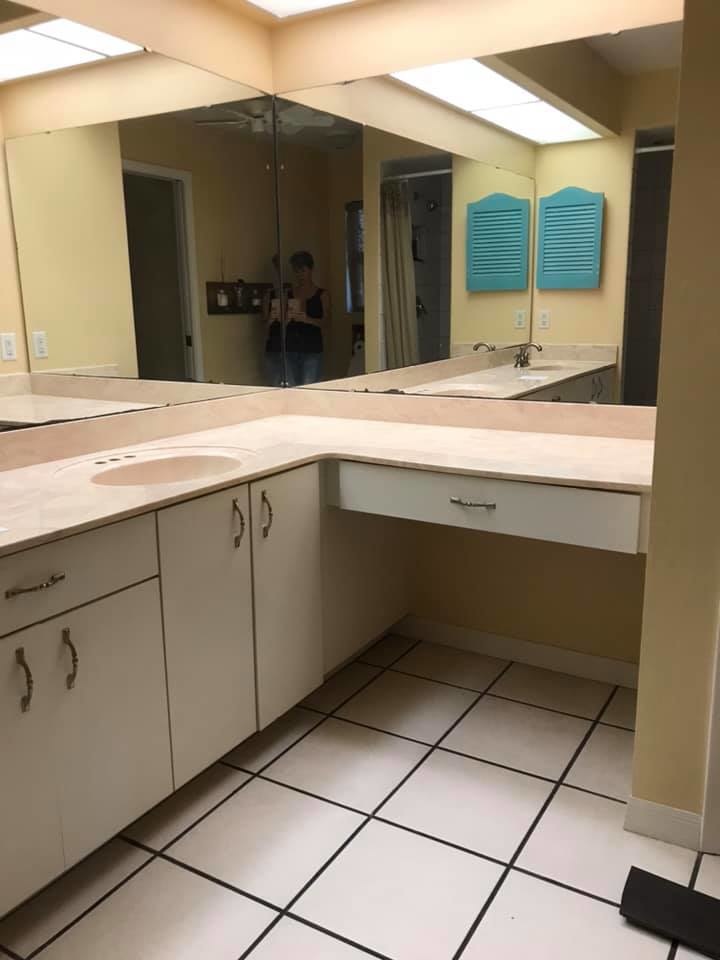 How many times do you look at your space and think, "I really have to update this!"   Diane Lawson tackled this conundrum with her bathroom. 
Before she started, her 1970's bathroom bothered Lawson. 
Let's face it, we wake up to this room and we see it last before we go to sleep.  Shouldn't our bathrooms be beautiful, soothing, and a statement of what makes you feel good? 
Lawson decided it was time to make a change and enlisted Sarasota Architectural Salvage to help. She found a vintage curio buffet cabinet and that started off the project. After it received a faux finish, this became the anchor piece for the project.
"I've always liked the look of blending the vintage and contemporary," says Lawson. So she found a granite style she wanted to use for the sink top and chose tile and wall color to compliment the curio and the granite.
With a basic color scheme in place, and a curio buffet for storage, the next item to find would become the vanity.  Since the vanity sports dual (his/her) basins, it was somewhat challenging to find.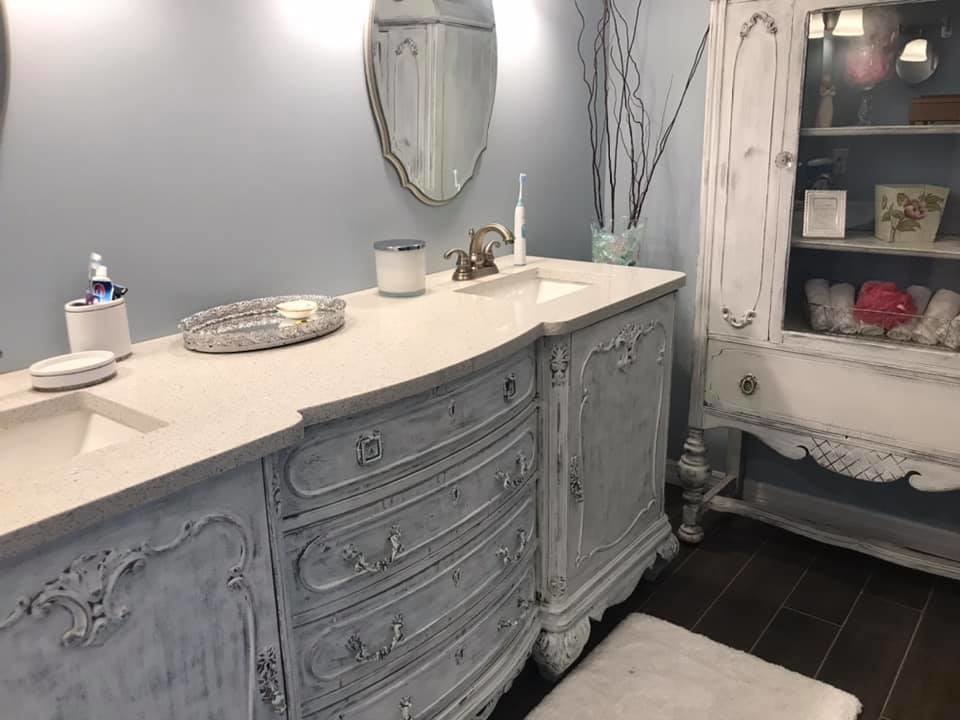 When choosing the base piece for dual sink configuration, it's best to choose a buffet with drawers in the middle, and doors on the sides. Which allows for convenient plumbing access.
Besides the structural changes to the bathroom, the vanity took the most work.  It required the removal of the original top and reinforcements to support the stone top that Lawson envisioned.  Placement with regard to existing plumbing was also a factor.
Lawson had her vanity top custom cut to match the vanity lines. Pre-existing faucets were reused, and custom holes drilled to accommodate the fixtures. 
Candelabra lighting replaced florescent and sconces and small scaled mirrors replaced a wall of mirror and fluorescent overhead lights.
"Using reclaimed materials requires patience," says Lawson, "since you cant always find all of the items in one visit to the Salvage Store.  But in the end you have a project to be proud of, one that is sustainable and beautiful.  I love the transformation!!!"