A DIY Contest. Submit your favorite upcycling example of channel letter reuse. Details in the Article. Winner will be announced July 16, 2018 Win Gift Certificates to Sarasota Architectural Salvage
THE CONTEST
Buy a "Channel Letter" (see explanation below)
Repurpose your letter into a cool project.  Like a kid's room light, chandelier, table, desk, who know what, that's the contest - how creative can you be?
Post a picture of your completed project to our DIY Challenge Event Page https://www.facebook.com/events/202978973862268.  
Votes are counted by likes and comments on your entry. 
      - A like and the first comment count as a point. 
      - You can get 2 points from one person if they like and comment.
      - fine print / more details below
Basque in the glory of your creative genius, profound use of color, and brilliant execution of idea. 
Contest ends 9 am on Monday July 16, 2018
Win a Gift Certificate to Sarasota Architectural Salvage 1093 Central Ave, Sarasota. 
     - 1st place - $100 GC
     - 2nd place - $75 GC
     - 3rd place - $50 GC
OTHER NOTES
No cost to enter.
You can enter more than one project.
You don't have to buy your letter from Sarasota Architectural Salvage, but we appreciate it if you do.
You may enter something similar to another entry, just give your project a special spin.
WHAT IS A CHANNEL LETTER
Channel letters are sign letters that are typically illuminated and hang over storefronts.  They are typically metal, which forms a channel into which the lighting is placed. Thus the name, "channel letter." 
We have over 300 channel letters in stock, and all were recovered from local businesses that went through signage changes. 
All the letters in our side yard are on sale for $10 each.  SO it's a great time to buy a letter, even if you don't enter the contest.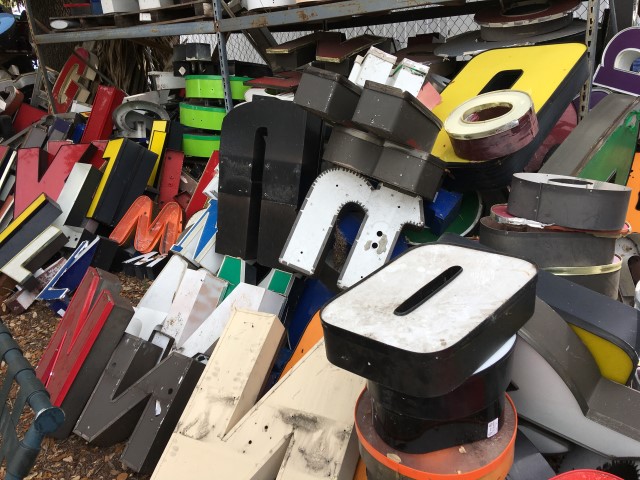 FINE PRINT/ More rules
Each voter may like multiple entries, and this is ok.
Each voter may comment on multiple entries, and this is ok.
Only the first comment on an entry by a voter counts as a point, subsequent comments are just for fun.  So, 10 different people can comment on an entry to earn it 10 points. But if any one person makes 10 comments on the same entry, that's still 1 point.
This contest is just for fun and while we will issue Gift Certificates, there is no cash value to this contest and you agree by participating that it's ok for your work to be displayed on our facebook and for use with other promotional purposes.  You agree by viewing or participating in this contest that you're not going to sue Sarasota Architectural Salvage (SAS) or anyone associated with SAS for any reason originating from this contest.